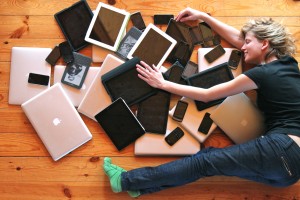 When is the new iPhone coming out?
Is that the new or old iPad you got there?
Look at my shiny new Surface Pro!
and then there is a plethora of cheap Android mobile phones all over the under developed and developing world.
We proudly announce the huge statistical studies boasting number of devices now in the world and how many people are connected.
Oh! we love our smartphones, wrist bands, smart watch and now we are putting computing+networking circuitry inside our furniture, household appliances, our clothes and well… even our bodies!
How many of us stop to wonder and think for a minute the whole process and materials required to get these devices in our hands? How many of us want a charger in car, in office, in living room, in kitchen and one by the bedside too.
I came across this article on BBC and it has changed the way I think about acquiring more devices.
The dystopian lake filled by the world's tech lust
We are literally violating  and abusing our planet and it's natural habitat as well as beauty while overtly and proudly practicing our basic instinct of greed in today's age of abundance.
Hope that those who comes across my blog and spend some time to read the article will start the process of stopping to think before they upgrade their next device!